Cup Winners!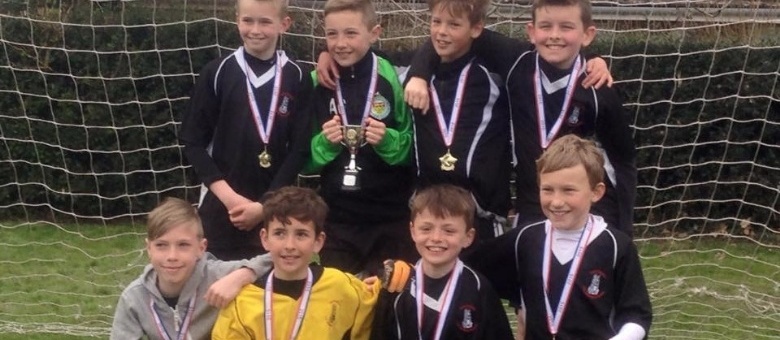 Winners of the Ashford and District Primary School Sports Association tournament (ADPSSA) - Large schools section.
Back row: Jake, Alfie, Thomas, Ollie Front row: Oliver, Dillon, Gus, Nathan
The only unbeaten team in the competition - that's the claim to fame for the star players from Years 5&6 who competed in the large school's section of the ADPSSA cup.
The semi final against Kennington was a tense affair with Kennington scoring quickly from the penalty spot. This proved to be the only goal Dillon had to pick out of his net all morning. A few nervous minutes of uncertainty were extinguished when the team equalised and then went on to win 3-1.
The final was a replay of a 0-0 draw in the first group stages against a strong Godinton team. End to end play was being mainly dominated by Godinton who were attacking powerfully. However, our defence was up to the challenge and with around 4 minutes to play Jake challenged for a ball in the Godinton area forcing a mistake and an own goal.
More fierce Godinton attacking was thwarted with robust defending and the boys in black held out to win the coveted trophy.
It is the first time in 4 years that a single team has won the cup, as a draw in the final means a shared trophy. The third time we have won since 2009.
WELL DONE BOYS!