Positive Behaviour

Class Dojo at Tenterden Primary Federation
Class Dojo has been used across the federation from September 2016 as a positive behaviour management reward tool.
Behaviours
The Class Dojo system allows the celebration of your children's good learning behaviours. 'Points' are earned when children demonstrate one of the behaviours which is recognised as one which will further their learning. These are collected throughout the year and certificates are awarded when children reach the milestones of 50, 100, 150, 200, 250 and 300 points.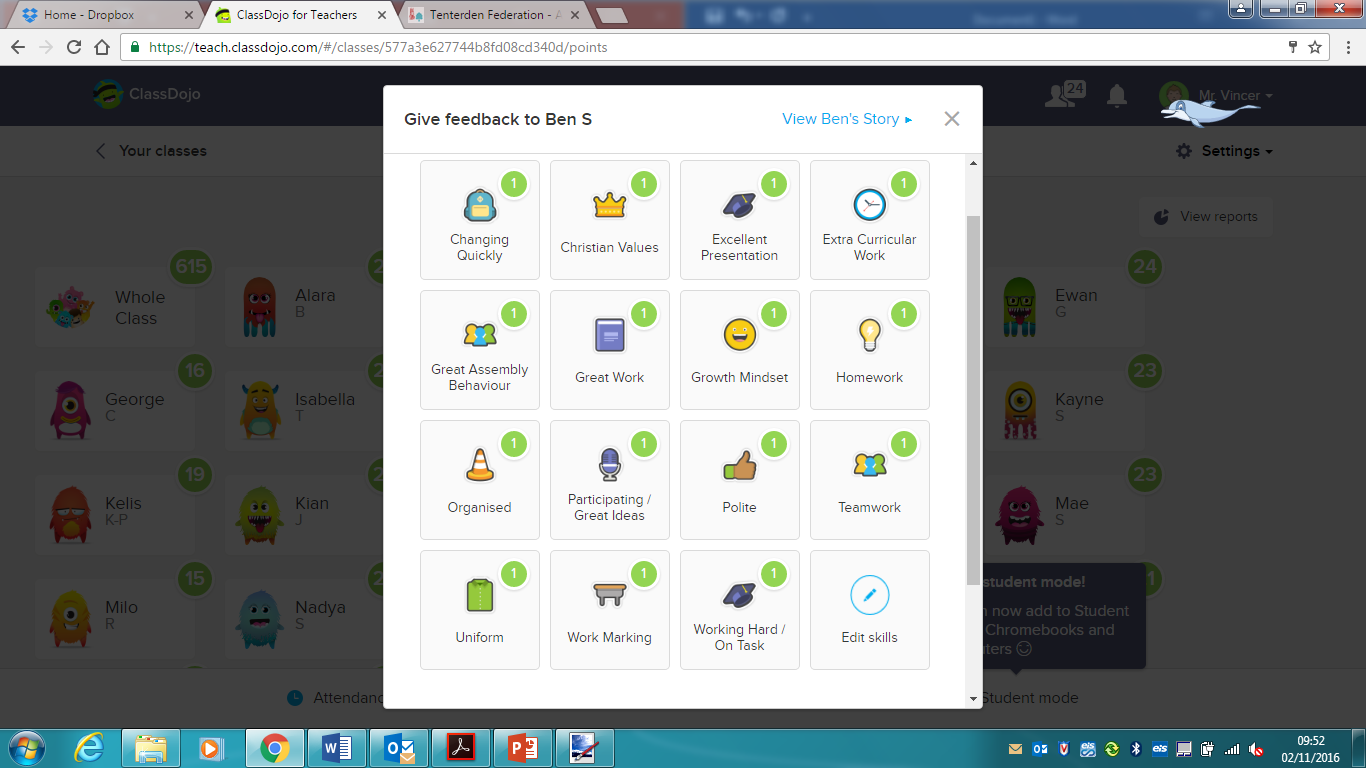 There are also a series of opposite 'Needs Work' behaviours which may be recorded in circumstances where children are not demonstrating good learning behaviours. We expect these points to be rare however as children are enthusiastic learners at Tenterden Primary Federation.
Class Story
The Class Story is a stream of news which is posted by your child's class teacher. Items posted on here could include:
Excellent examples of children's work.
The week's learning content.
Updates on home learning.
Reminders about trips/events.
We welcome positive comments from parents on children's work which can be shared in class with the children themselves.
Messenger
The messaging system can be used to inform your child's teacher of any minor issues which may affect your child's learning on a particular day. Teachers will do their best to acknowledge your message during their 'active hours' but please be aware that their priority will always be the teaching and learning going on in their classroom.
We are unable to get into dialogue about particular issues in class through the messaging system. If you wish to discuss an issue or your child's progress, please contact either school office or approach the teachers on the playground to make an appointment.
Parent and Student Accounts
The Class Dojo system enables you to login and celebrate the points that your child has earnt over the week. It will also give you access to the 'Class Story' on which your child's class teacher will be sharing extracts of the children's excellent work. The system itself is secure and has been tested thoroughly by us and other schools in Kent. As a parent, you are only able to access your child's individual points and the class story which corresponds to your child.
No individual child's point information is shared with any other parent and there is only access to the system by registered parents who will be monitored by the class teachers.
To receive your individual code for parent and student accounts, please speak to your child's class teacher.
Questions
If you have any questions about the Class Dojo system, please contact Mr Vincer or Mrs Craggs who will be happy to assist you.